Written in June 2023
In April, we stayed for a month in Beppu, Oita Prefecture on the island of Kyūshū in Japan. Having been mainly touristy in Osaka before, Beppu surprised us with wonderful people, great places and memorable encounters. But one thing at a time.
As a disclaimer up front: We travel the world as an artist and musician, so we have made it our business to find galleries, art cafes, music pubs and other artistic places and encounters. So it takes a certain amount of courage to approach people. Nevertheless, Beppu made it very easy for us in that respect and welcomed us with open arms.
Of course, we did the typical tourist things in and around Beppu: We visited the Kijima Kogen amusement park, went to Mount Tsurumi and Takasakiyama Monkey Park. That's not what this is about. This is a guide to finding the more hidden places and supporting the ever-growing cultural scene in Beppu. In that one month, though, we only hung out in Beppu's south. Once we get back there, we'll try to explore the north as well. 😛
Kitakoka / Kitakouka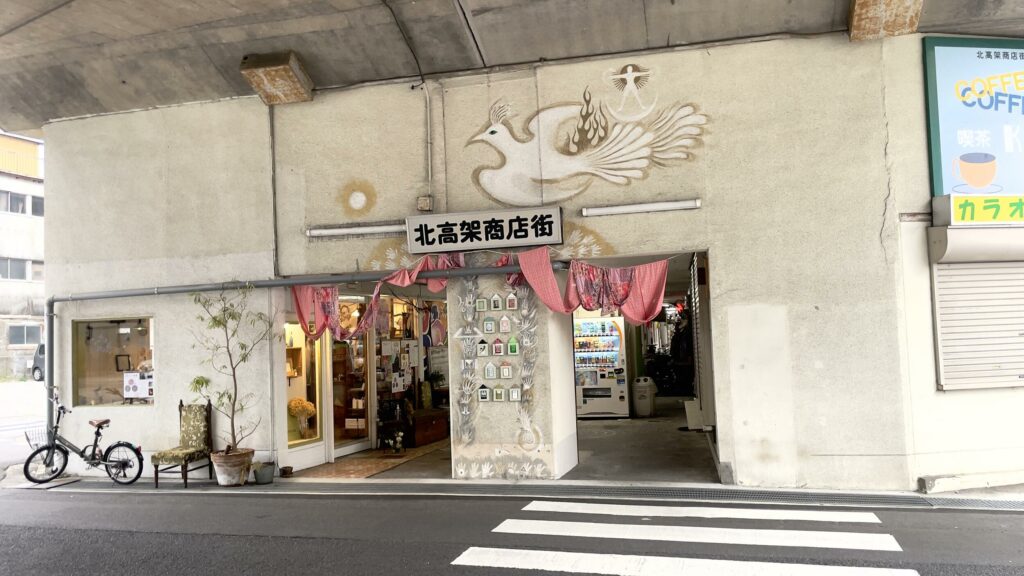 The small shopping street under the train tracks is mentioned in a few places on the net, but only with generalities. As punky as this passage is, it offers an experience in itself with the art store KURUKURU, the grocery Sempervivum, the café Sontokiniyoru, the bar Gin&Lemon and a handful of other stores.
Since all the shops are run by their owners, the opening hours are very humane: most are open between 11am and 5pm, but not every day. It's a good idea to check the social media channels, where the opening hours are announced every month. You should also bring time with you, time for a coffee or tea and a chat.
Also worth mentioning is the library, a place that belongs to no one and everyone. There are two comfortable armchairs and a lot of literature ready to be discovered. You will also find two cabinets full of children's toys and a piano.
KURUKURU
The KURUKURU is not just an art store. The operator Miki is committed to the local art scene and thus offers space not only for handicrafts and fine art. At regular intervals there are events with concerts or pop up exhibitions. There is also a coffee or tea with pastries and cookies for conversation in English, as well as fresh fruit and vegetables directly from the farm at regular intervals. If you're lucky, Mori will be on hand to paint your jacket, bag or laptop for an amount of your choosing. And regularly Masaya gives a workshop with pen, paint and paper, sipping his home-roasted coffee while you get artistic.
Instagram: @apubeppu_kurukuru_market
Opening hours: Miki is usually there from Wednesday to Sunday from 11am to 5pm. However, it is advisable to drop by on Instagram. There Miki publishes her monthly plans as a post or story.
Sempervivum センペルビウム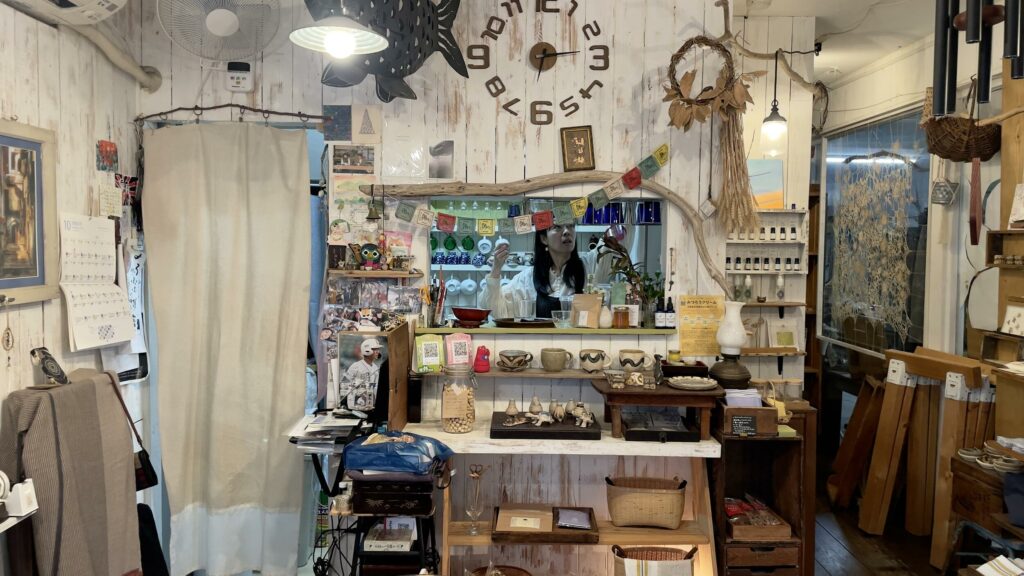 The Sempervivum is referred to as a "grocery store" on Google. However, it's not just about stuff: high-quality cosmetics and organic coffee are available, and a local bakery regularly sells pastries. You can also enjoy a coffee or tea while having a good chat (in Japanese or via app). On the second floor there are regular events: Concerts, exhibitions or a pop up hair salon are worth a visit.
Instagram: @semper_vivum_beppu
Opening hours: Mostly from 11am to 5pm. The monthly schedule is published beforehand, but not on Instagram, only on site; you may drop in twice.
GIN & LEMON フッド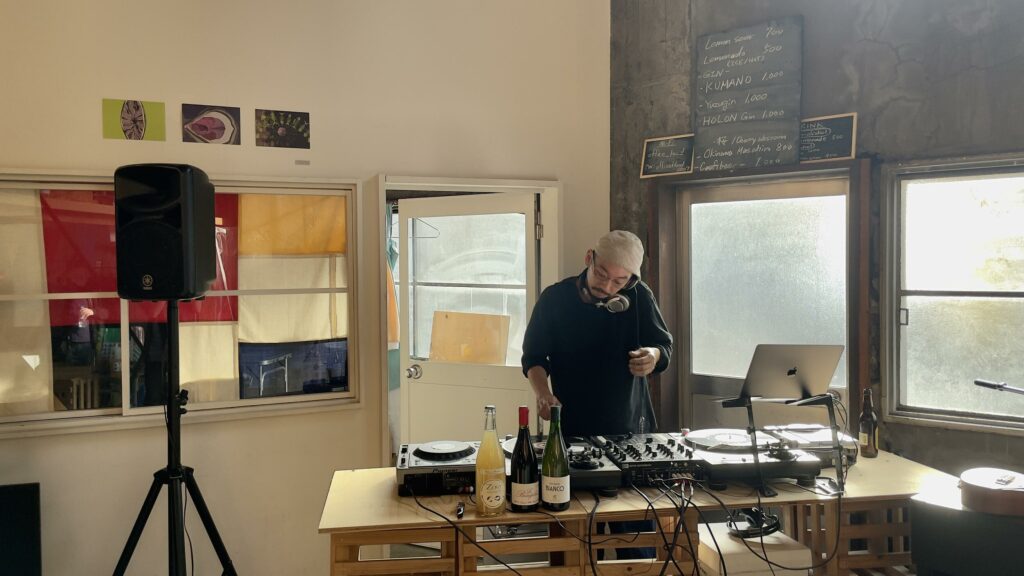 During the day, people open their laptops to work here, and in the evening they enjoy gin from the bar. What sounds like a cool co-working concept is actually even more rustic: The tables and chairs are made of wooden crates that can be arranged in different ways and are sometimes converted into a DJ booth at night. And if there's a party at Kitakoka, GIN & LEMON is definitely there with selected gin varieties.
Instagram: @hood.ltd
Opening hours: The space is free to enter, literally saying, "Pull aside the curtain as you arrive and settle in." The bar is open Thursday through Sunday from 8pm to midnight.
Watanabe tomi shoten 渡邉富商店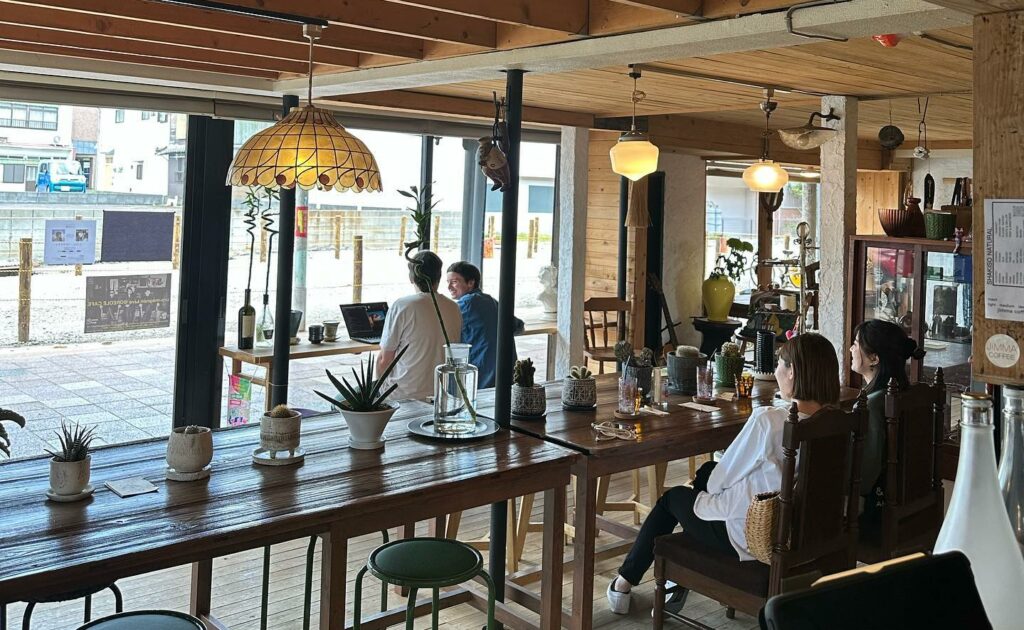 If you're looking for a co-working space that has pleasant music, is comfortable and offers delicious food, then Watanabetomishoten – or Watanabe for short – is the place for you. The store, which is very large by Japanese standards, is run by Seiji and Nanami. The story behind it is interesting: Seiji originally tended and sold plants here. Nanami then came up with the idea of offering curry, resulting in a symbiosis of wonderful ambience and delicious food.
There is a curry every day, which is also offered vegetarian. In addition, there is wonderful coffee and chai and very tasty cake, usually three varieties to choose from.
Since we liked to work outside of our accommodation, the Watanabe was always a place to go. Officially, it is not a co-working space, but the WiFi is gladly shared if needed.
Instagram: @watanabetomishoten
Opening hours: Regular Friday from 3pm to 11:30pm and Saturday to Monday from 11:30am to 6pm. However, there are events every month, so it's worth taking a look at Instagram, where the current monthly calendar is published as a post.
Creole Cafe
The Creole Cafe is one of the best-known venues in Beppu. It is located on the first floor of the Beppu Tower and is not just a café: When you come in, you immediately notice the speakers distributed around the room and the huge DJ mixer with record collection. Accordingly, concerts by bands, solo musicians and DJs take place here regularly.
In addition to the concert, there is delicious food with vegetarian options. Lunch is from 11am to 2pm, after which there is coffee and cake. Alcoholic beverages of various types are available around the clock. There is also Free WiFi, which in combination with the regular opening hours predestines the place for digital nomads.
The Creole Cafe is run by the owner himself and Teppei. Both put on not only during their shift the pleasant background music from record, but are equally always enthusiastic for a conversation.
Instagram: @creolecafe_beppu
Öffnungszeiten: Freitag bis Mittwoch von 11 Uhr bis Mitternacht. Donnerstag ist Ruhetag.
Opening hours: Friday to Wednesday from 11am to midnight. Thursday is day of rest.
WanderCompass Beppu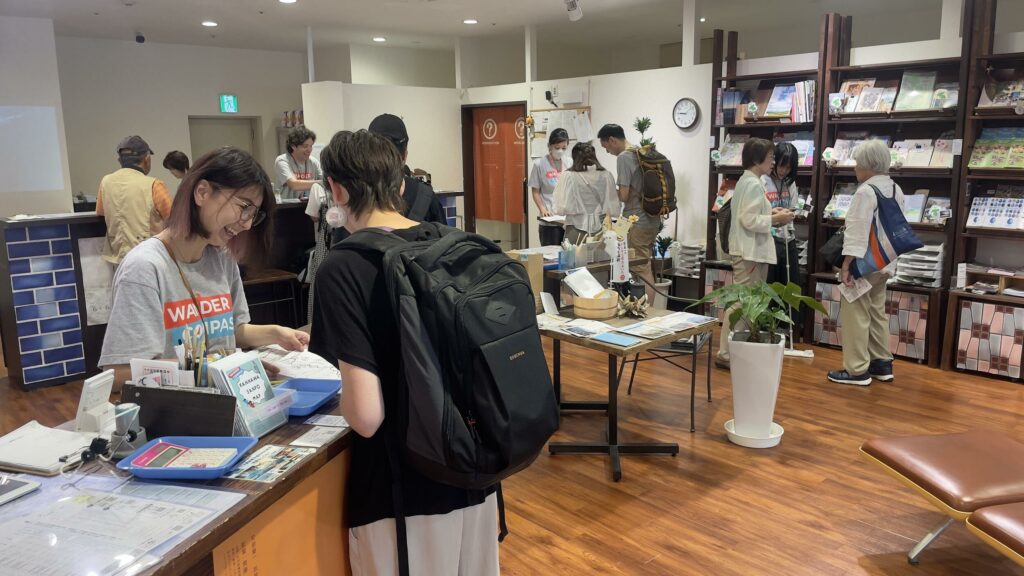 You've just arrived at the station and have no idea what the next steps are. Is there a bus or the metro to the hotel? And what about the onsen? And where was the Kijima Kogen amusement park again? Rescue is closer than you thought! 🦸🏻🦸‍♀️🦸🏾‍♀️🦸🏻‍♂️
At the entrance to WanderCompass Beppu, you can find out in which languages the advice is offered today. There is a lot of information in the form of flyers, posters and booklets about Beppu, the surrounding area and Japan in general. In addition, a friendly, highly motivated team is ready to answer your questions and give you helpful tips for your time in Beppu.
We had been looking for a small book to learn Japanese for a long time in Osaka. And without looking for it, we found it on the bookshelf of WanderCompass and were allowed to take it with us. It gave us an introduction to the language, which is so different from the European languages we know. ありがとうございます!🙇🏻🙇🏽‍♂️
Futaba Printing 株式会社フタバ印刷社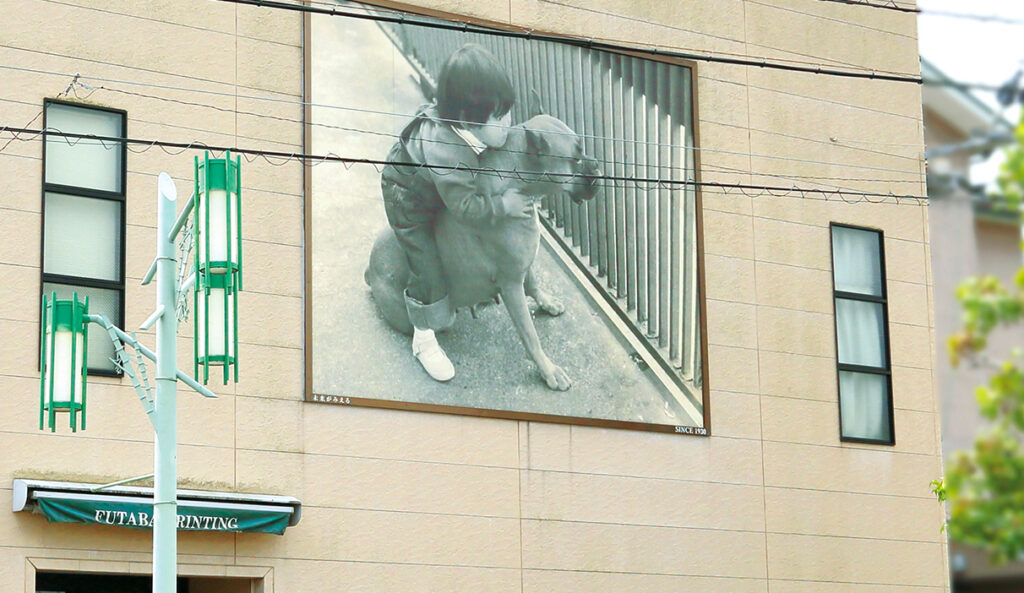 A printing company as a recommendation? Yes, because you should have your business cards printed in Japan once. 😎
If you want to print or copy something in Japan, you usually do it at any convenience store, e.g. Family Mart and Lawson, or at Daiso around the corner. There are the usual large office machines that can even print photos. However, the choice is very limited between standard paper and glossy and usually the formats are B5 to B3 and A5 to A3. Not what we needed, because we wanted to print business cards.
Following the recommendation of a local, we turned to Futaba Printing and were very kindly taken care of. We went there during opening hours and made an appointment a few days later, communication in English was flawless. For the appointment itself, we brought our artwork on the USB stick. While we were selecting the paper from several large trays, artwork and a first proof were already made and presented to us for approval. While still on site, I was able to adjust the artwork on my laptop and a second proof was made. Five days later, we were able to pick up our business cards. We had 100 of each made for the equivalent of about 25 EUR.
So if you've never needed business cards before, we highly recommend you get this keepsake. The selection of papers alone is worth the experience.
Website: futaba1930.com
Opening hours: Monday to Friday from 8:30am to 5pm.
Space Beppu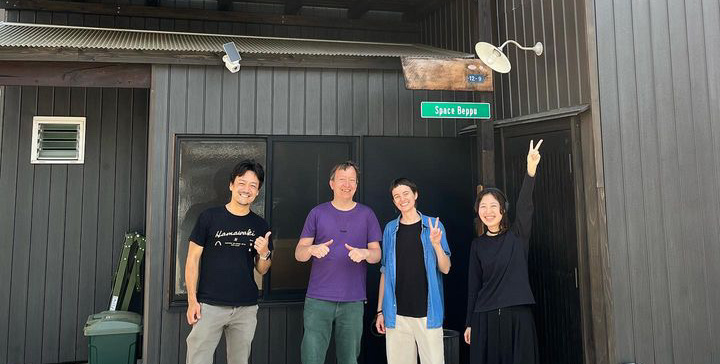 In a 105-year-old traditional Japanese house, a community space has been set up with great attention to detail. Various workshops are offered, as well as an office space for co-working and a seminar room. A tourist visit is also worthwhile: there are exhibitions with works by local artists and a photo documentation of Beppu from the last 100 years. The small store is funny, offering – besides imported European products – local bamboo products like a smartphone speaker.
Vegetarian food in Beppu
In large cities, it is now easily possible to eat a completely vegetarian diet without having your own kitchen. However, as soon as urbanity declines, it does not become easy. This is true for Europe as well as for Japan, although we had the impression that the vegetarian/vegan food culture in Germany has already produced more variety. Which is funny based on the abundant tofu offerings in Japan. Therefore, we settled on cooking ourselves in Beppu. The more surprised we were about the vegetarian offer in Beppu. A few tips we would like to give you here:
The Watanabe has already been described above. Here there is always a curry, which is also offered vegetarian
Creole Cafe serves pasta and very tasty Spanish tortilla at lunchtime.
Tane
Near Kurukuru is Tane with a wonderful thali served both vegetarian and vegan. Since the small restaurant is very popular, there is a waiting list: You go there and leave your phone number. As soon as a seat becomes available, you get a call. In the meantime, it's worth visiting Kitakoka.
Facebook: facebook.com/TANEspice
Opening hours: Thursday to Monday from 11:30am to 5pm. Tuesday and Wednesday is closed.
Sontokiniyoru ソントキニヨル
Across from the Kurukuru next to the Gin & Lemon is the ソントキニヨル. A beautiful little restaurant with vegetarian options from the owner's garden. The vegetables are organic and taste like they are fresh from the field. We also learned about konnyaku (蒟蒻), a dish made from the root of the devil's tongue; however, we declined with thanks due to the unwanted consistency. In addition to the lunch offer, there is coffee and tea.
Opening hours: Tuesday to Saturday from 11:30am to 5pm. Sunday and Monday is closed.
Pirica ピリカ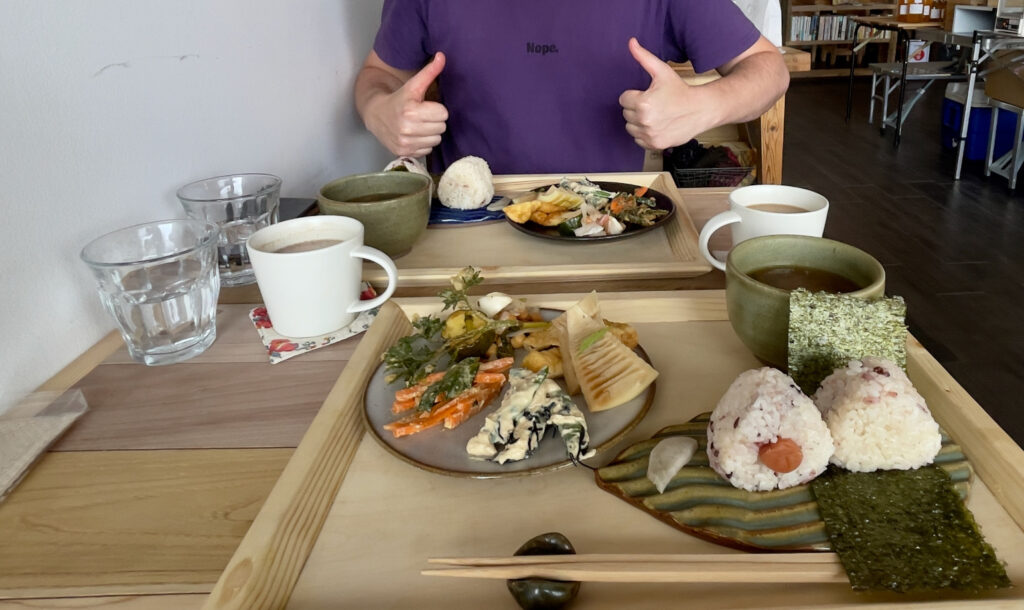 The Pirica is an organic food store with kitchen as it is in the book: There are organic foods in reusable packaging, wooden children's toys and other natural products. The lunch menu is, among other things, vegan and very tasty. There is also free wifi.
Instagram: @pirica_kissa
Opening hours: Friday to Monday from 8:30am to 6pm. Tuesday from 11am to 6pm. Wednesday and Thursday is closed.